Play the Free Demo on Steam!
Wishlist on Steam!
Description
An elf-like princess must save her people by going on a magical adventure, overcoming obstacles and meeting strange creatures along the way.

The Lost Weld is an exciting, fantasy-themed action-adventure game being made by an all-female development team. The game features a compelling, movie-like script recorded by some of the industry's top voice-acting talents, beautiful open world environments, and engaging game action. Set in a rich fairytale-like fantasy world filled with interesting characters and imaginative twists and turns, The Lost Weld's main storyline will include about 6 to 8 hours of exciting game play.
The Plot
Princess Piper lives on the Isle of Mist where she and the other Mistians enjoy a happy way of life powered by the Weld, a magical resource first discovered hundreds of years ago. When the Weld mysteriously vanishes, Piper's mother, Queen Astra, sets out to find a solution, but is soon captured by the stone-like Rookians in the mountains.
Piper, with the help of a new friend, begins an adventure to save her mother, but soon learns that the fate of the entire island depends on her traveling into strange lands deep below the Isle. To succeed, Piper must not only find out what happened to the Weld, but also must channel magical powers within herself.
But... Piper has never shown any potential for weaving spells before. Will she be able to develop the magical powers she needs in time to save the Mistians?
Features
The Lost Weld is an exciting, fantasy-themed action-adventure game built using the Unreal Engine 5 game development platform.
The game features a compelling, movie-like script recorded by some of the industry's top voice-acting talents.
Gameplay alternates between open world exploration, exciting action challenges, and dramatic in-game cutscenes.
The game is being developed by an all-female team and has quickly attracted a strong following.
The game includes a fully-orchestrated symphonic score in an "epic" romantic style.
Many aspects of the project, including 20,000-word script and all characters, are complete, and the first four levels are available as a prototype allowing about 45 minutes of game play. The full game will be about 6-8 hours long and is expected to be complete Q4 2022.
Leadership
KIMBERLY BLAIS
Game Designer, Developer, and Writer

The founder of Mama Makes Games, Kimberly Blais first became interested in developing games as co-founder of a software startup that was granted fifteen patents related to e-learning. Two of these patents were for gamification, and Kimberly's research into the game market led her to start Mama Makes Games. An anthropologist by training, passionate potter, unrepentant bibliophile, and mother of four, Kimberly enjoys building worlds in which she would want to live and play with her children. For more information about Kimberly, check out our About page.
ERICA SCHROEDER Director and Lead Actor

Erica Schroeder is one of New York's premier voice actresses and has worked on 40+ games. She has lent her voice to over 300 beloved animated characters for television, film and videogames over the past 19 years. Erica has been directing and producing for the last 8 years and is one of the East Coast's most sought-after voice coaches. She has appeared on Broadway, Off-Broadway and regionally, and sings on the original cast recordings of Jane Eyre, SHOUT! The Mod Musical and others. Erica has won a SALT award for My Mother's Lesbian Jewish Wiccan Wedding and an Outstanding Acting Performance Award in the 2014 Zed Film Festival for the television pilot, Zom-Com. Her favorite role by far is that of mom to her two children. For more information about Erica, check out her web page at https://ericaschroeder.com.
CISSY JONES
Producer and Actor

Cissy Jones has built a name for herself in the video game and animation space with such roles as Delilah ("Firewatch"), Katjaa (Telltale's "the Walking Dead") and Lilith (Disney's "The Owl House"). Now moving to the other side of the glass, she's bringing her expertise and experience to production, combining years of networking, fan interaction, and behind-the-scenes knowhow to bring more diverse projects to light. As a working mom of two incredible girls, she aims to champion projects with a heavy focus on inclusivity and intersectionality to model the world she aims to leave behind for them. For more information about Cissy, check out her web page at https://cissyjones.com.
History
When Mama Makes Games began to develop The Lost Weld, it performed a market research study by surveying a standardized sample of 209 American adults through SurveyMonkey Audience. It found that 75% of adults preferred games without explicit violence, 80% preferred games with movie-like dialogue, and 83% preferred games that did not sexually objectify women. These results were the same for both gamers (73% of the sample) and non-gamers. Perhaps most interesting, 86% of adults said they would be specifically interested in a game made by an all-female team.

Mama Makes Games is trying to make high-quality games for a much broader and more diverse audience than can be reached by the gaming industry's focus on action and horror movie clichés. Just as Frozen had a far larger audience than Rambo, Mama Makes Games' leadership believes that there is a much bigger audience for story-driven action-adventure games that incorporate the more accessible and prosocial content common in popular movies and literature.

History would support this strategy. In 1992, the video game market was dominated by fighting games such as Street Fighter II and sports simulators. Sega Channel President Stanley B. Thomas described game players as "predominately boys ages 6 to 15," and marketed to them accordingly.

And then, in 1993, Myst happened. The best-selling game until it was superseded by The Sims in 2002, Myst challenged the prejudices and expectations of the gaming market. Yet, despite the examples of King's Quest, Myst, The Sims, Minecraft, Candy Crush, and many others, the belief persists that gamers want mostly violent, sexist, and disturbing games.

Fortunately, games are starting to move in the right direction. The Lost Weld delivers hours of action and excitement without any violence or gore. The player must directly solve problems through a variety of magical and physical methods, but never harms or kills anyone. In The Lost Weld, the protagonist and most of the main characters are women, but none are portrayed in an objectifying way. These female characters are presented with a variety of body types, ages, and racial features. The Lost Weld is a genuinely female-led project, with all development and creative leadership roles done by women. The game's design and aesthetics reflect perspectives and ideas that stem from this female leadership.
Want to learn more?
Big news about The Lost Weld is coming soon! Contact us or check back soon to find out more.
Videos
Free Wallpapers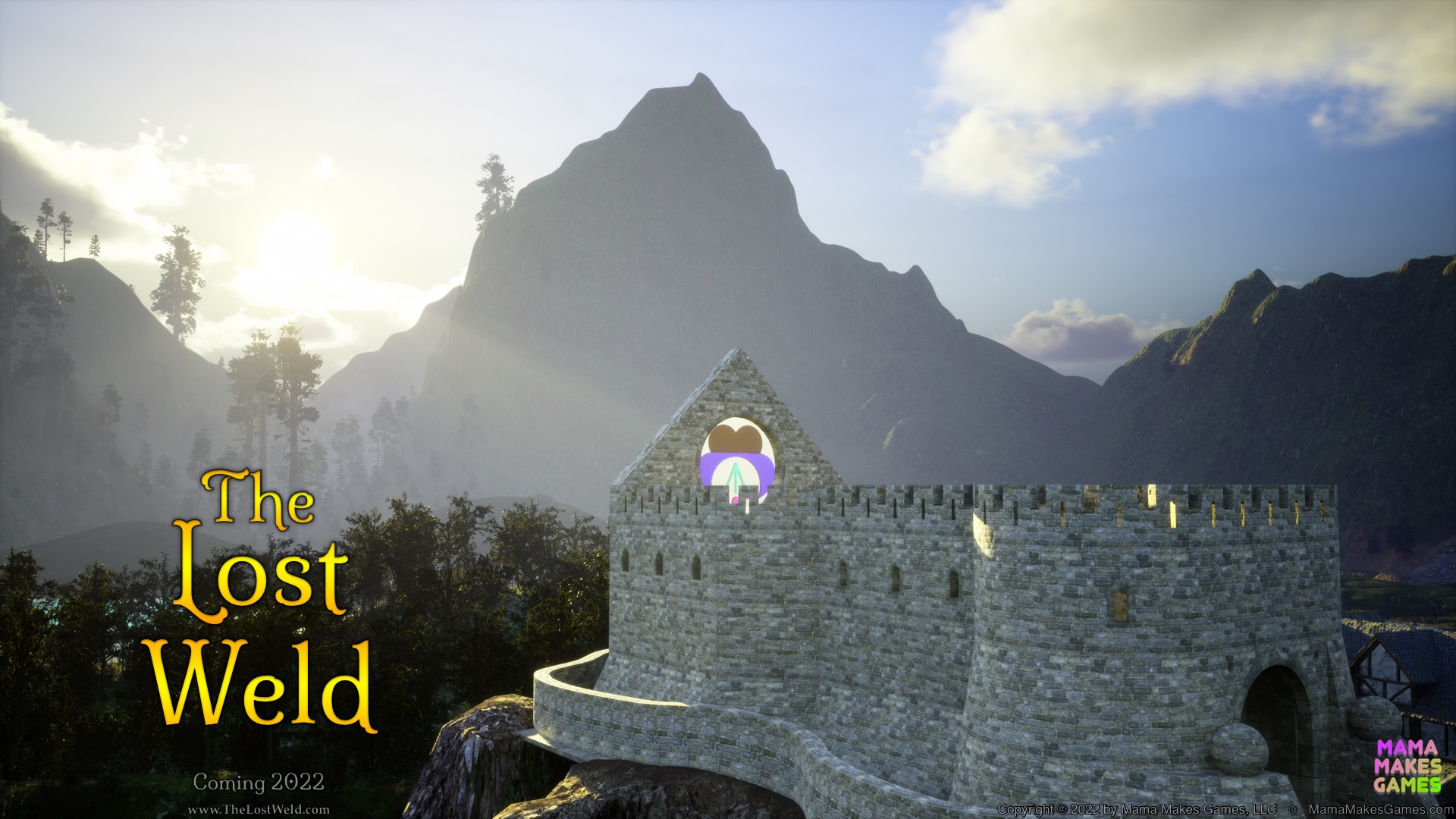 3840x2160 4K version
1920x1080 HD version
Free Aurorachord Mini-Game
The original Unreal Engine 4 prototype of The Lost Weld included a very short mini-game where Piper plays an Aurorachord, a magical musical instrument. When I switched development to Unreal Engine 5, I pulled out this mini-game and made available for free to download and play on Itch.io. See if you can get a 100% score!